Miami is now enjoying its greatest high-rise construction boom in history. There have never been as many 600-foot towers under construction in Miami as there is this year.
The construction boom doesn't stop there. There are at least a dozen towers under construction that will rise above 500 feet. These relatively smaller projects will bring thousands of apartments to Miami's urban core.
Miami has more than 300 high-rise buildings with 45 of them rising over 490 feet tall. Panorama Tower is the tallest building in Miami standing at 868 feet tall, and it was completed in 2018. The Four Seasons Hotel Miami is the second tallest building at 789 feet tall. Only New York City and Chicago have more skyscrapers than Miami in the US.
Here are the 10 tallest Miami towers that are currently under construction, expected to break ground in 2022, or recently completed.
The Waldorf Astoria Hotel and Residences

Miami

(100 Stories, 1,040 Feet)

Construction started in the first quarter of 2022 after the developers announced they had surpassed the 72% sold mark. It will become the tallest all-residential building in Miami and south of New York. The project will include 360 condo residences, and 205-key hotel rooms operated by Waldorf Astoria. The competition is scheduled for 2026.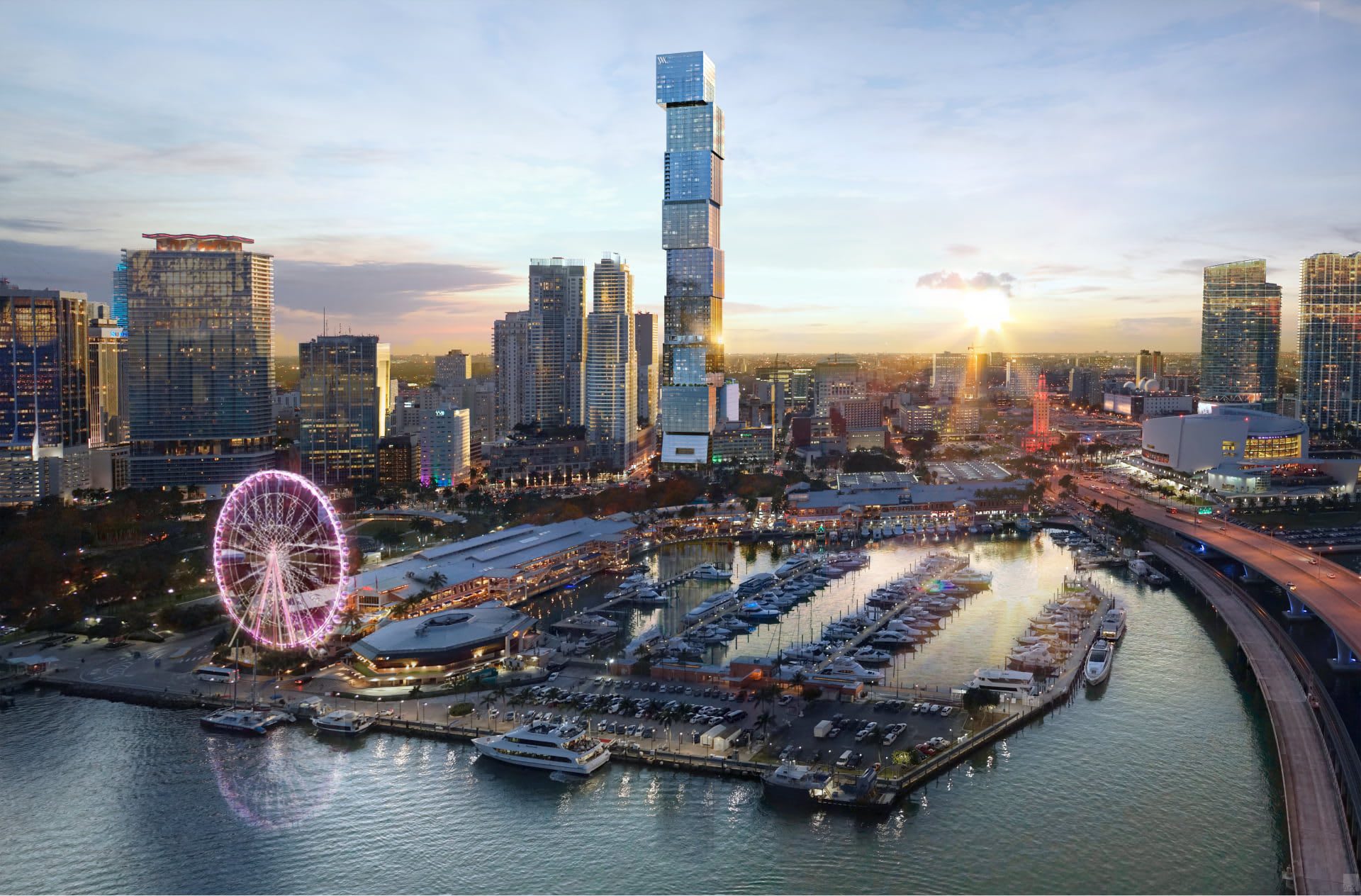 The Waldorf Astoria Hotel & Residences, Miami, FL
Okan Tower (70 Stories, 902 Feet)
Okan relaunched sales in October 2021 and broke ground in June 2022. The development will include 316-key Hilton Miami Bayfront Hotel, 163 Sky Residences, 236 short-term rental residences managed by Hilton, and 64,000 square feet of Class A office space. Completion is scheduled for 2026.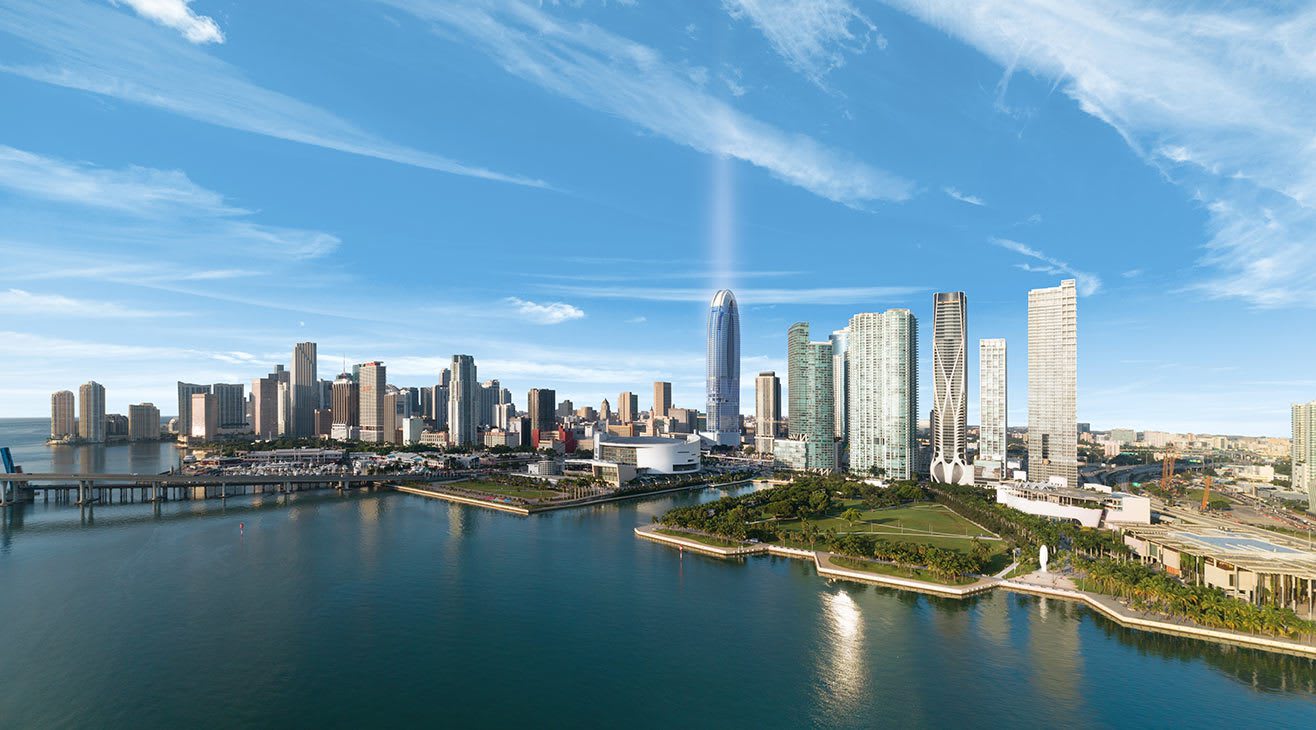 Okan Tower, Miami, FL
Baccarat Residences (75 Stories, 828 Feet)
This project just passed the 60% sold mark and began converting reservations into contracts. There will eventually be three towers. The project will also include a publicly accessible riverwalk. Completion is set for 2025.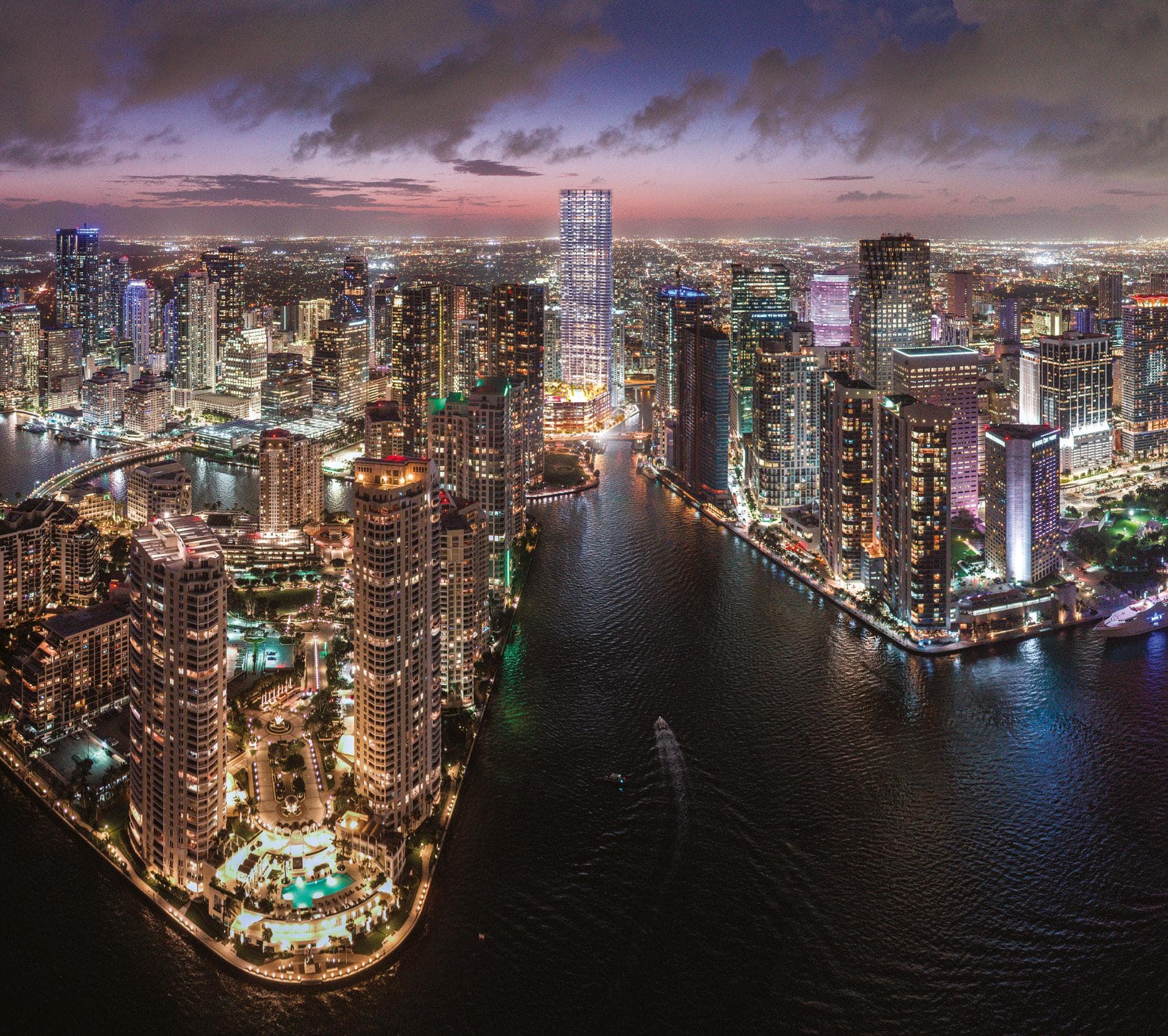 Baccarat Residences, Brickell, Miami, FL
Aston Martin Residences (66 Stories, 818 Feet)
This tower topped off in December 2021, with completion scheduled for later in 2022. It will become the tallest condo building in Miami upon completion, and the second-tallest building in Miami (although it will soon be surpassed).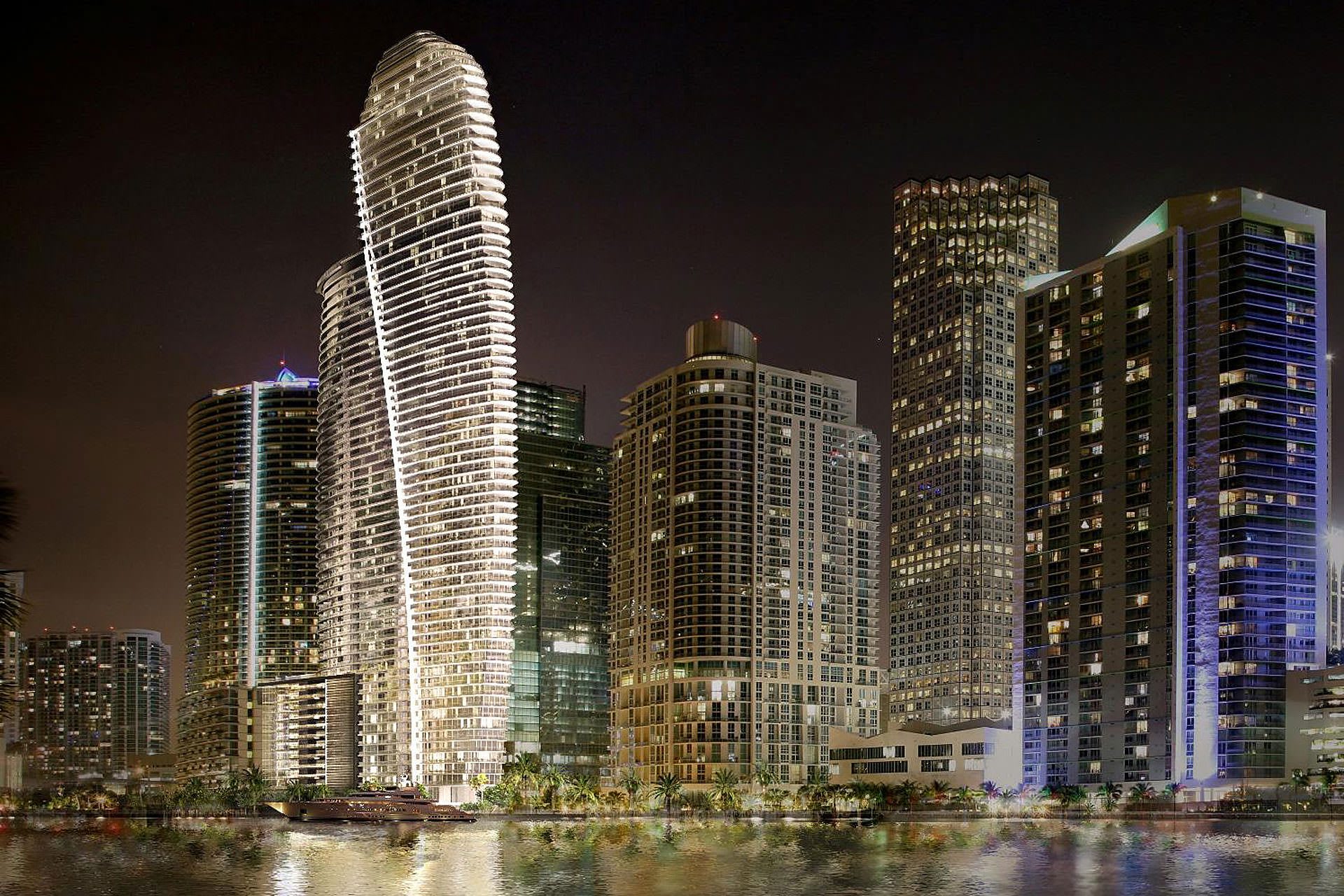 Aston Martin Residences, Miami, FL
1 Southside Park (62 Stories, 754 Feet)
Site work for this massive Brickell mixed-use project began in February 2021, with groundbreaking and foundation work underway as of last April. 1 Southside Park will include:1,175 residential rental units, 190,000 sq ft of office space, 200-key Treehouse Hotel, 10,000 square feet of retail, and 1,400 parking spaces.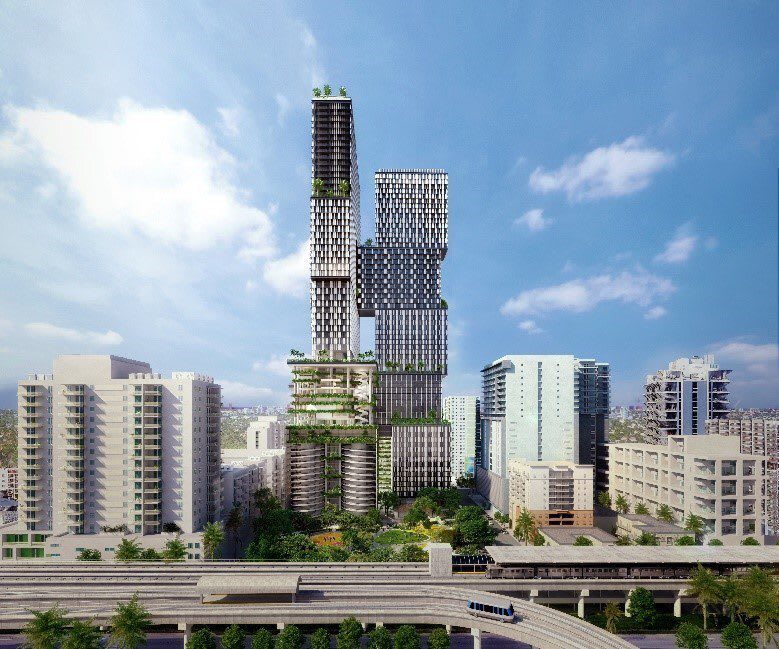 1 Southside Park, Brickell, Miami, FL
830 Brickell (50 Stories, 734 Feet)
This $300 million office tower is under construction and completion is scheduled for 2023. It will become the second tallest office tower in Miami, and the most desirable. Tenants include Microsoft, Blackstone, Citadel, WeWork, Marsh Insurance, and many other top-tier companies.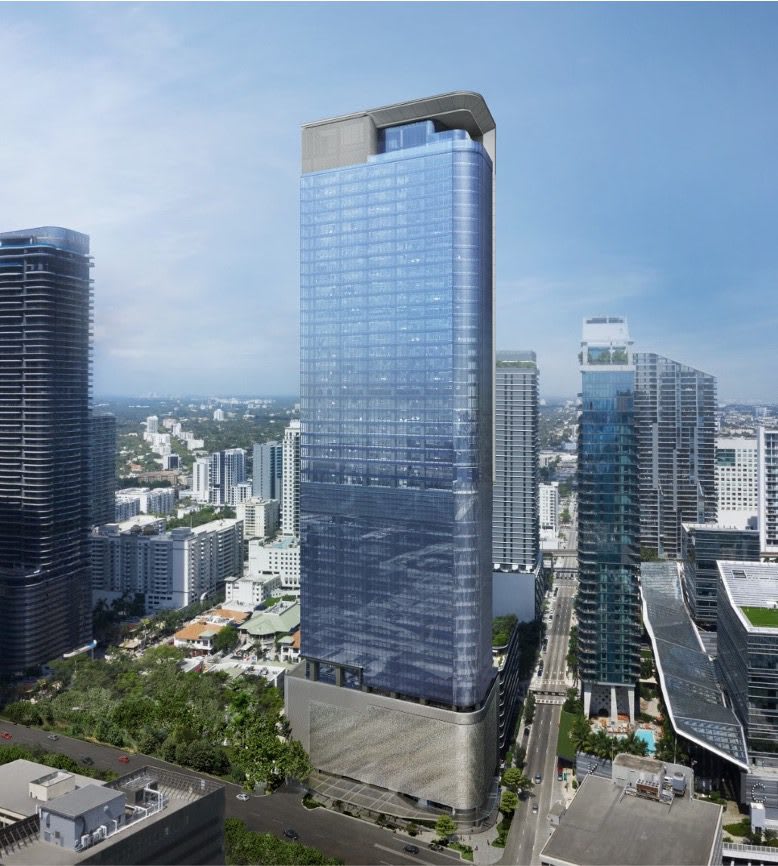 830 Brickell, commercial office building in Brickell, Miami, FL
E11EVEN Hotel & Residences (65 Stories, 698 Feet)
E11EVEN Hotel & Residence tower launched sales in 2021 and it quickly sold out. Groundbreaking took place in November 2021 and competition is expected in 2023.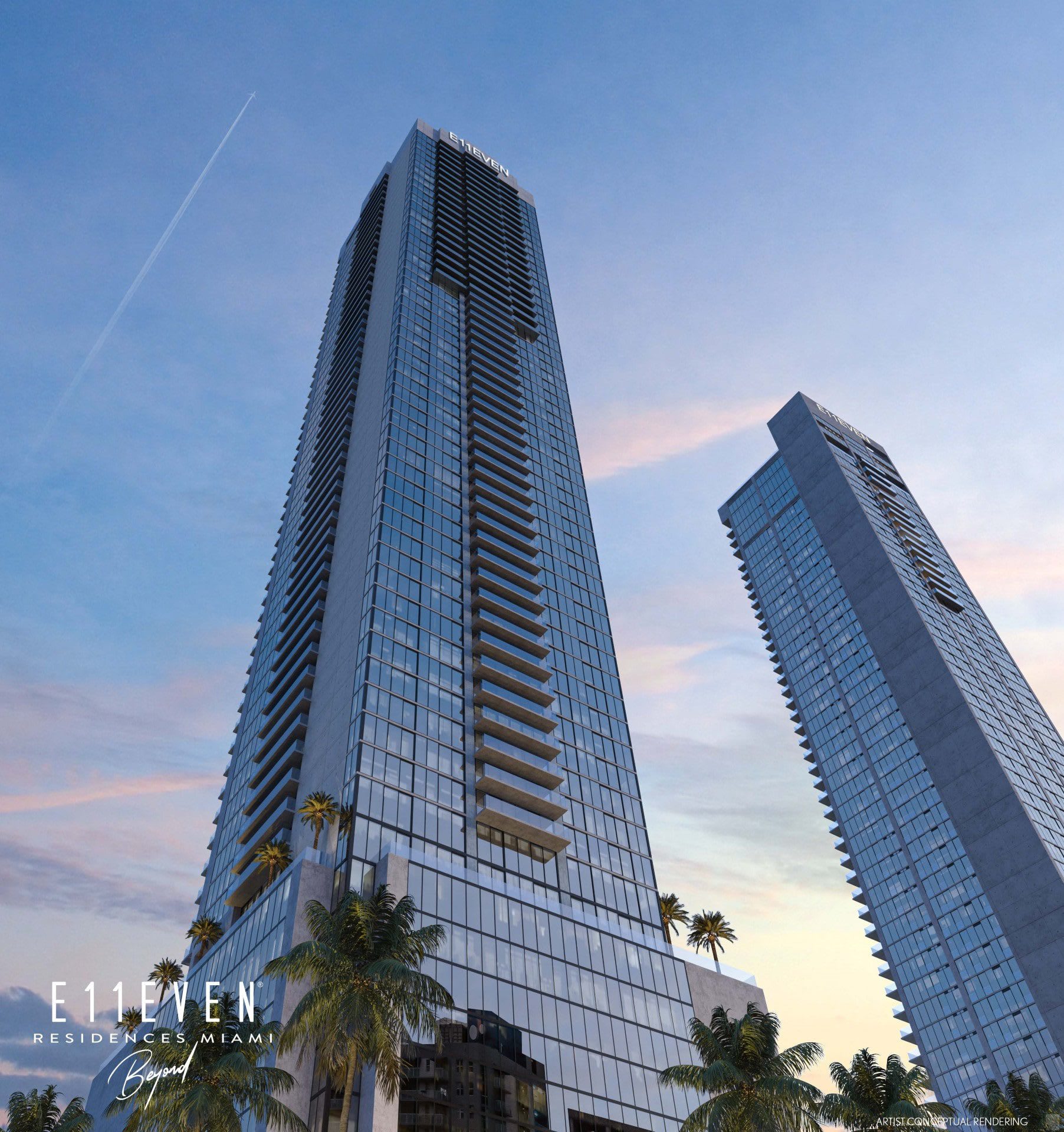 E11even Residences & Tower, Miami, FL
Legacy Miami Worldcenter (50 Stories, 691 Feet)
In 2021, this tower completely sold out all residential units. Groundbreaking took place in August 2021. The tower will include 310 condos and 210 hotel rooms and the competition is scheduled for late 2024.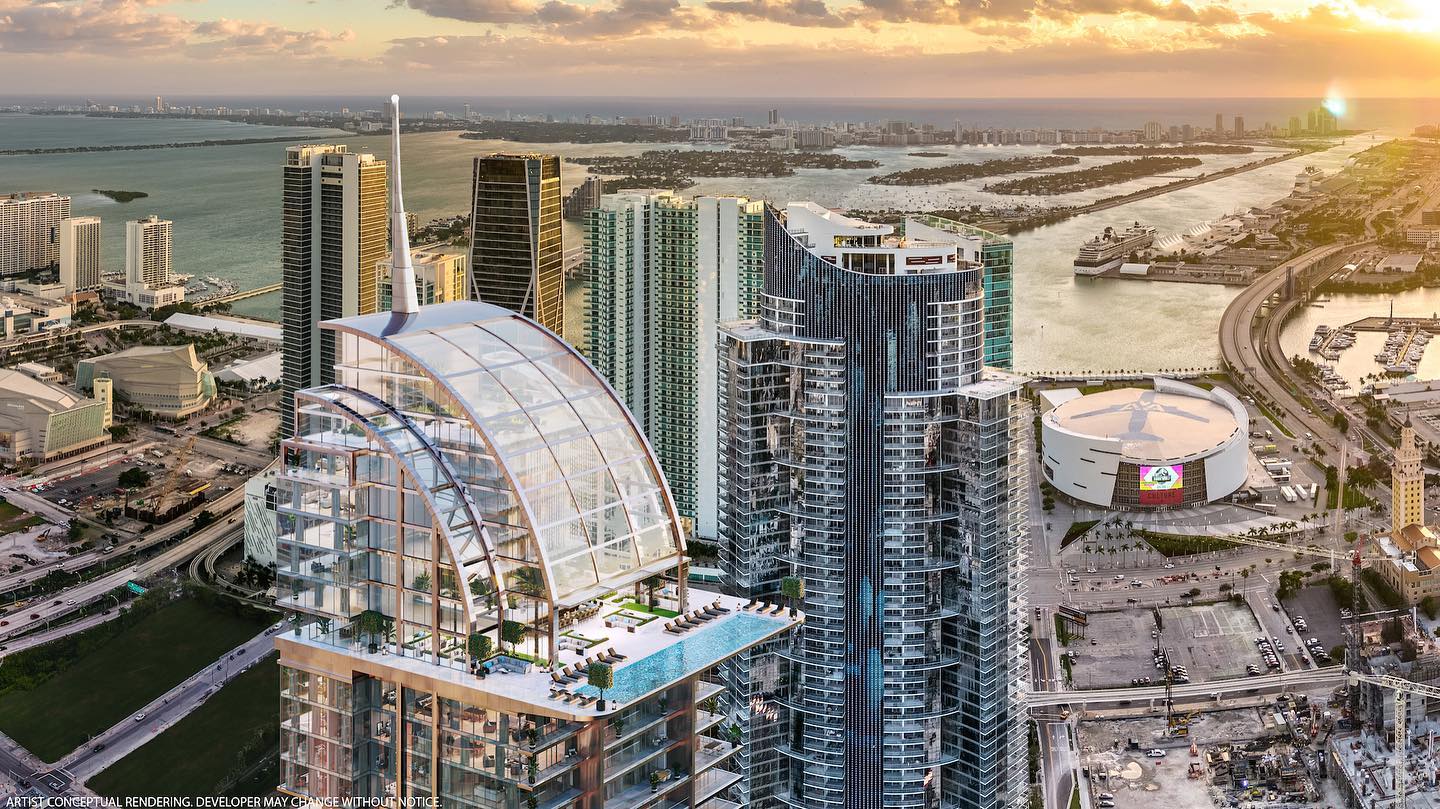 Legacy Miami Worldcenter, Miami, FL
Estates at Acqualina: North Tower & South Tower (50 Stories Each, 667 Feet & 646 Feet respectively)
Estates at Acqualina is a two-tower ultra-luxury development comprised of just 245 condo residences with a lobby design by Karl Lagerfeld. The North Tower was topped off and scheduled for completion in October 2022. It will accommodate 91 condo units. The South Tower was completed in June 2022 and accommodates 154 condo units. Both towers are sold out.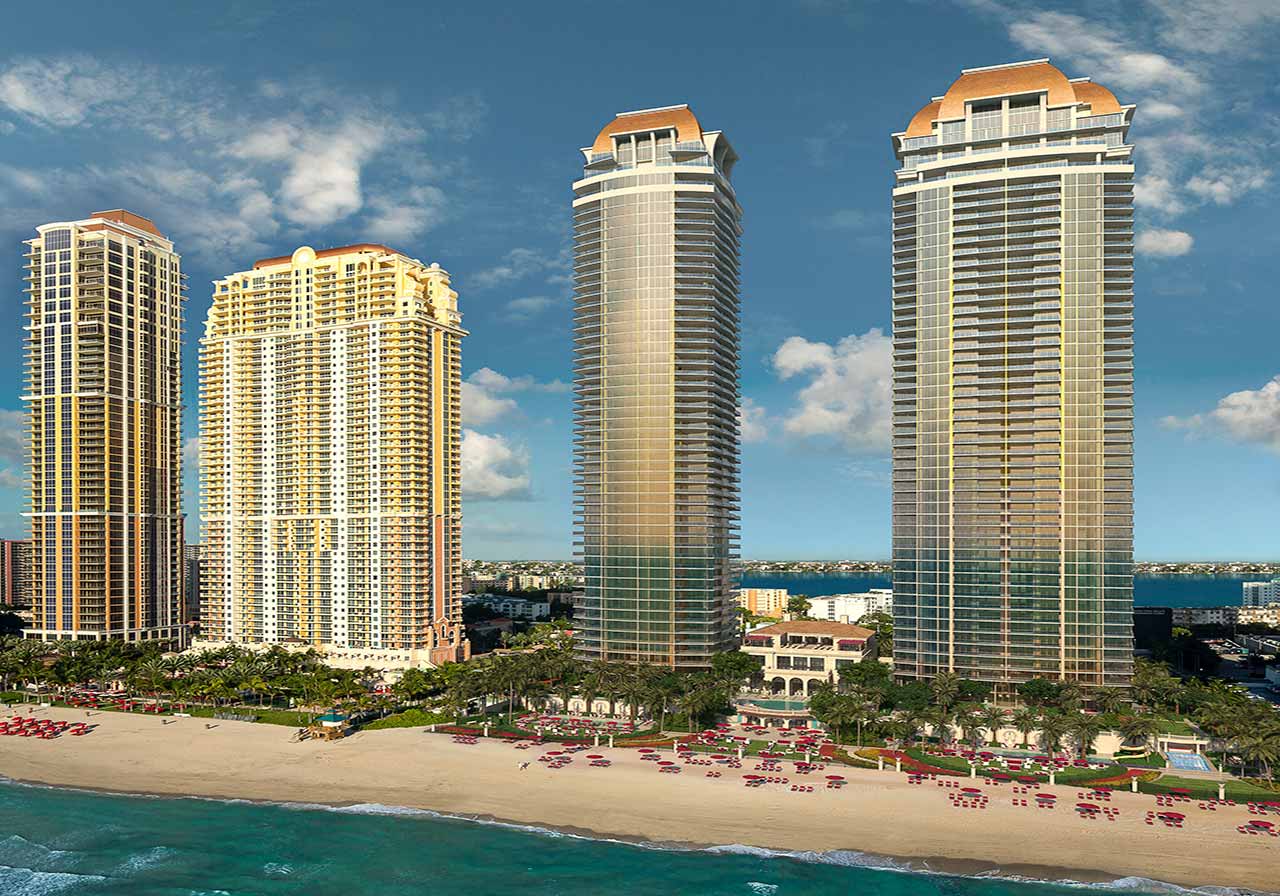 The Estates at Acqualina in Miami's Sunny Isles Beach, Florida
Missoni Baia (57 Stories, 649 Feet Above Sea Level)
It is the first and only Missoni-branded residential tower in the world, Missoni Baia, has sold the majority of its 249 units. It's the tallest building in Edgewater and competition is scheduled for 2022.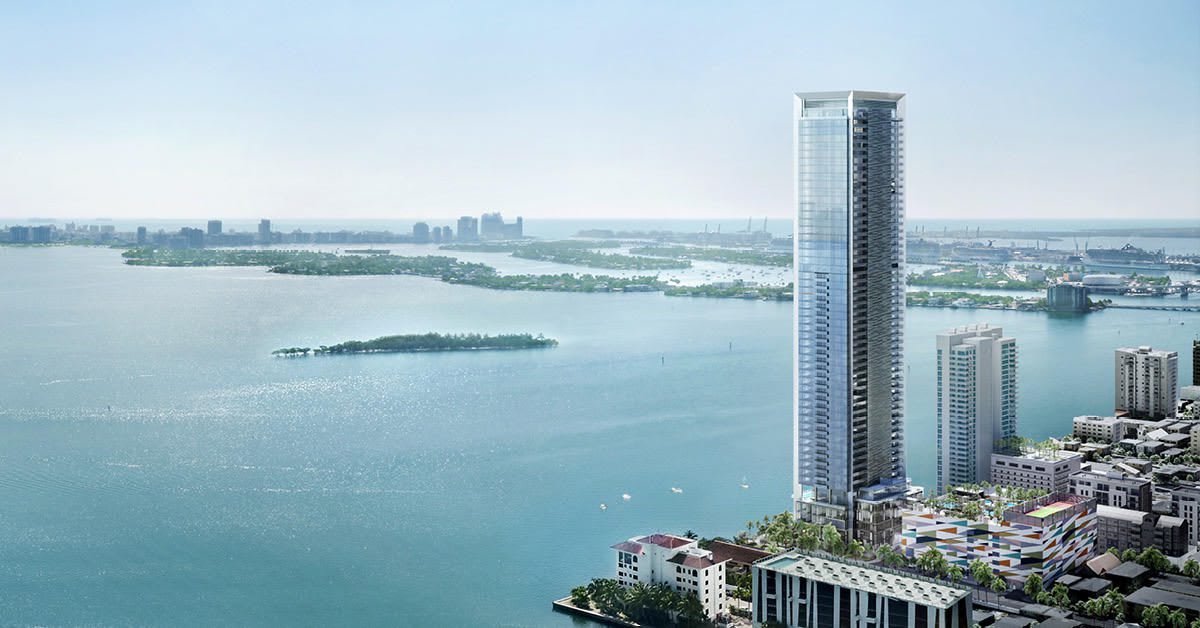 Missoni Baia, Edgewater, Miami, FL
Are you looking to move? We will gladly help you reach your real estate goals!